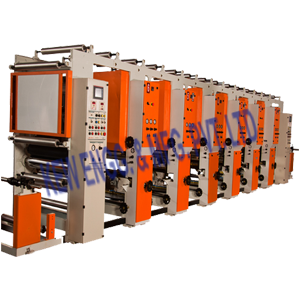 KEW manufactures, exports & supplies precision quality Rotogravure Printing Machine, which is suitable for printing plastic and paper packing materials like Polyethylene, Polypropylene Bag, Cellophane, Paper Roll, BOPP Film, LDPE, OPP, etc.  Rotogravure Printing Machine is used in flexible packaging manufacturing and printing process including polyester, Nylon, Bopp, Foil, low and high density polyethylene polypro plane and paper with two sided printing facilities with high speed hot air dryers. Electronic Line Shaft (ELS) Rotogravure Printing Machine The high speed Electronic Line Shaft (ELS) Rotogravure Printing Machine has the great flexibilities and high resolution color combination at faster rate. The rotogravure printing machine is well designed for precision engineering for best industry standard requirements of valued clients with technical excellence, easy machine operations with good efficiency and performance, high durability and reliability with standard parts made from sturdy materials.
Rotogravure Printing Machine
Salient Features:Modular printing station each being complete in it for easy adoptability of when required. Specially designed compensator roll with ball screw to achieve extra-fine registration. All rollers are dynamically balanced to ensure noise and vibration free operation for accurate printing.
Optional Attachments:
Video scope
An automatic registration control system
7 Drive with turret
Ink circulation system
Auto splicing.
PLC base functions.
PID control with exhaust with drive controls.
Lubrication system
Technical Specifications of Rotogravure Printing Machine:
Max. web width  : 800/1000/1200/1400/1600 mm
Maximum operating speed :  150 / 200 meters /min.
Print repeat range :  350 1000mm
Printing materials :  Foil, Paper, Polyester, Bopp, PP, PVC, LDPE etc.
Drying source :  Electrical /thermic fluid / gas
Dryer :  Closed type single side drying oven
Dimension of printing station : 600 x 3200 x 65mm
Registration longitudinal :  Motorized ball screw
Lateral :  Manual motorized (Optional)
Tension control feedback  : Through dancer roll & load cell